New York City comedy—renowned for its diversity, vibracncy, and historical significance is one of the greatest hubs for comedians in the world. It's a birthplace of legends, home to the most prestigious comedy clubs, fosters an intense and competitive environment, gives comedians the most opportunities, influences popular culture, fuels resilience and adaptability, creates community, and so much more.
NYC's comedy scene is a dynamic and influential part of the city's cultural landscape, and here's the best clubs in the city.
Comedy Cellar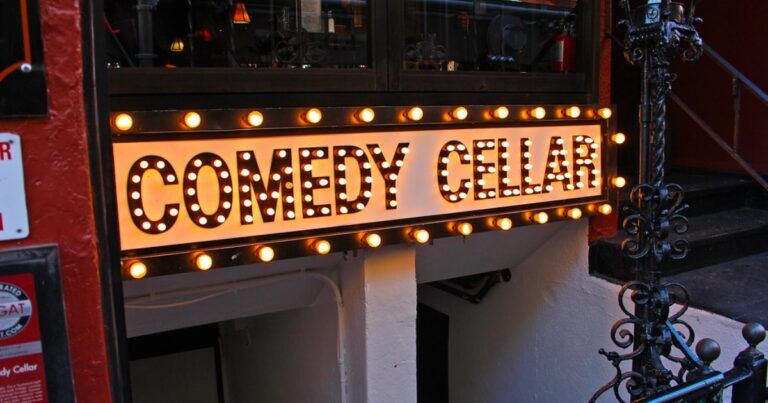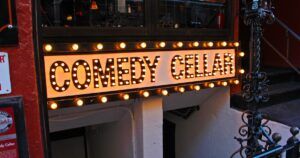 The Comedy Cellar, a legendary club in Greenwich Village, is synonymous with New York City comedy. Known for its iconic brick wall backdrop and tight seating arrangement, this club offers an authentic and raw comedy experience. The Comedy Cellar is famous for surprise appearances by top comedians, making every visit potentially unique. The club's lineup often features a mix of established stars and talented newcomers, ensuring a diverse range of comedic styles. The atmosphere here is electric, with audiences often packed into the cozy basement space, creating an intimate and interactive experience. The Comedy Cellar's reputation as a breeding ground for comedic talent and its no-holds-barred approach to stand-up make it a must-visit for comedy lovers.
Gotham Comedy Club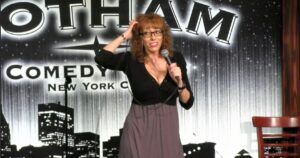 Situated in Chelsea, Gotham Comedy Club is a sleek, modern venue known for its upscale ambiance and top-tier comedic talent. The club has a sophisticated decor, with a spacious main room and comfortable seating, offering a premium comedy experience. Gotham has hosted numerous high-profile comedians and TV shows, adding to its prestige. The club's lineup is a blend of well-known comedians and rising stars, ensuring a high-quality show. Gotham Comedy Club also features a VIP room and a full-service bar, making it an ideal spot for a classy night out. The club's commitment to quality, both in terms of performers and the overall experience, makes it a standout in the New York comedy scene.
The Bell House
Located in the heart of Brooklyn, The Bell House is a renowned venue known for its eclectic mix of comedy, music, and other live performances. Housed in a 1920s warehouse, this club exudes a unique charm with its high ceilings, vintage decor, and a spacious main room that creates an inviting atmosphere. The Bell House is celebrated for hosting a variety of comedic talents, from up-and-coming local comedians to nationally recognized names. The venue's commitment to diverse programming makes it a staple in the New York comedy scene. Its stage has seen a range of comedic styles, from stand-up to improv, offering something for every comedy enthusiast. The club also features a front bar area, perfect for pre-show gatherings, making it a favorite spot for a night out in the city.
Caveat
Caveat, located on the Lower East Side, offers a unique blend of comedy and intellect. This venue is known for its "intelligent nightlife," combining humor with thought-provoking themes. The space is intimate, creating a close connection between the performers and the audience. Caveat's programming includes a mix of stand-up comedy, storytelling, and themed shows that often delve into scientific, historical, or cultural topics. This approach to comedy makes Caveat stand out, as it provides not only laughter but also insightful content. The club's ambiance is cozy and welcoming, with a well-stocked bar offering a variety of drinks to enjoy during the shows. Caveat is an ideal destination for those looking for a comedy experience that is both entertaining and enlightening.
Related: 12 Best Stand Up Comedians of the 2020s (So Far)
The Comic Strip
The Comic Strip, one of the longest-running comedy clubs in New York, has a rich history of showcasing some of the biggest names in comedy. Located on the Upper East Side, this club has been a launching pad for numerous comedians who have gone on to achieve fame and success. The venue's classic setup, with a small stage and close seating, allows for an up-close and personal comedy experience. The Comic Strip's walls are adorned with photos of comedy legends, adding to the nostalgic feel. The club prides itself on its mix of veteran comedians and fresh faces, providing a balanced and entertaining lineup. The Comic Strip also offers comedy classes, making it a hub for nurturing new talent in the comedy world.
Littlefield
Littlefield, located in Brooklyn, is an eco-friendly performance and art space that offers a diverse range of comedic events. This venue is known for its commitment to sustainability, with a design featuring recycled materials and environmentally conscious practices. The space is versatile, hosting everything from stand-up comedy to live podcasts and themed comedy nights. Littlefield's industrial chic decor, combined with an intimate setting, creates a unique ambiance. The club is supportive of experimental and alternative comedy, making it a home for innovative and boundary-pushing performers. With a bar serving craft drinks and a lineup of creative shows, Littlefield is a favorite among those seeking a different kind of comedy experience.
New York Comedy Club
The New York Comedy Club, with locations in Midtown and the East Village, is known for its authentic New York comedy club feel. The clubs feature a classic comedy club layout with a cozy, intimate vibe. Known for its energetic atmosphere and diverse lineups, the New York Comedy Club showcases a mix of established comedians and rising stars. The club's shows often feature rapid-fire sets, giving audiences a taste of various comedic styles in one night. The New York Comedy Club also places a strong emphasis on fostering local talent, making it a key player in the city's comedy scene. With its traditional approach and commitment to comedy, this club offers a quintessential New York comedy experience.
Q.E.D.
Q.E.D. in Astoria, Queens, is a unique venue that describes itself as an "after-school space for grown-ups." This club offers a wide array of events, including comedy shows, workshops, and classes. Q.E.D.'s atmosphere is casual and community-oriented, making it a welcoming space for both performers and audiences. The venue hosts stand-up shows, storytelling nights, and open mics, providing a platform for both established and emerging talents. Q.E.D. is also known for its variety of classes, ranging from comedy writing to improv, making it a hub for creative learning. The club's inclusive and supportive environment, along with its diverse programming, makes it a cherished spot in the Queens comedy landscape.
The Stand
The Stand in the Gramercy neighborhood is a combination of a comedy club and a restaurant, offering a full dining experience along with top-notch comedy. The venue boasts a sleek, modern design with comfortable seating and excellent sightlines. The Stand is known for attracting high-caliber comedic talent, with a lineup that often includes well-known names in the industry. The club's shows are known for their quality and variety, featuring both stand-up and live podcast recordings. The Stand's restaurant serves gourmet food and craft cocktails, allowing guests to enjoy a complete night out with both dining and entertainment. This fusion of fine dining and comedy sets The Stand apart as a unique destination in New York's comedy scene.
West Side Comedy Club
Nestled in the Upper West Side, West Side Comedy Club offers a cozy and intimate comedy experience. This club, located below an Italian restaurant, provides a hidden gem feel, making it a delightful discovery for comedy enthusiasts. The venue's layout ensures a close connection between the audience and performers, adding to the intimate atmosphere. West Side Comedy Club features a variety of comedic styles, from traditional stand-up to more experimental acts, catering to a wide range of comedy tastes. The club's relaxed and friendly vibe, combined with its lineup of both established and up-and-coming comedians, makes it a welcoming spot for a night of laughter and fun.
New York City's comedy scene is a vibrant tapestry, rich in history and bursting with talent. Each club mentioned here contributes its unique flavor to this eclectic mix. From the raw and unfiltered comedy at the Comedy Cellar to the sophisticated and upscale atmosphere of Gotham Comedy Club, there's a venue for every taste and style.