In the vibrant city of Montreal, a place known for its rich cultural tapestry and lively entertainment scene, stand-up comedy has found a thriving home.
Explore the heart of Montreal's comedy landscape, exploring some of the most notable comedy clubs that have become institutions in their own right. From historic venues that blend the past with present-day humor to modern spaces fostering the growth of new comedic talent, each club offers a unique flavor of laughter and entertainment.
Whether you're a local or a visitor, a comedy aficionado or someone looking for a night of fun, these clubs are sure to provide an unforgettable experience.
Le Bordel Comédie Club
Le Bordel Comédie Club, located in the heart of Montreal's Quartier des Spectacles, offers a unique comedy experience in a setting steeped in history. The club, which now occupies what was once the most popular brothel in Montreal, celebrates its past with two distinct venues, each paying homage to the passion for humor. The club features a variety of shows, including the 'Comédie Club' with five seasoned comedians, the 'Open-Mic' for comedians of all levels to try new material, the 'Gong Show' for beginners to impress judges, and '60 minutes avec,' where a guest comedian performs for an hour. The 'Comédie Club découvertes' mixes seasoned and emerging comedians. The intimate setting, with a simple stage and a microphone, brings the art of comedy back to its roots, offering an 80-minute show that focuses solely on the talent of the comedians.
The Comedy Nest
The Comedy Nest is a premier destination for comedy lovers. Located on the third floor of The Montreal Forum, this club has been entertaining audiences for over 30 years with top-notch headliners from renowned shows like The Tonight Show, The Late Show, and Comedy Central. The club's lineup includes a mix of local and international comedians, ensuring a diverse and hilarious experience. The Comedy Nest is known for its comfortable setting, full-service bar, and great staff, making it an ideal spot for a night of laughter and fun. The club also offers special shows like 'Battle of Wits,' 'Newbie Tuesday,' and 'The Comedy Lab Show,' providing a platform for both seasoned and aspiring comedians.
Read More: 10 Best Stand Up Comedy Clubs in New York City
3rd Floor Comedy Club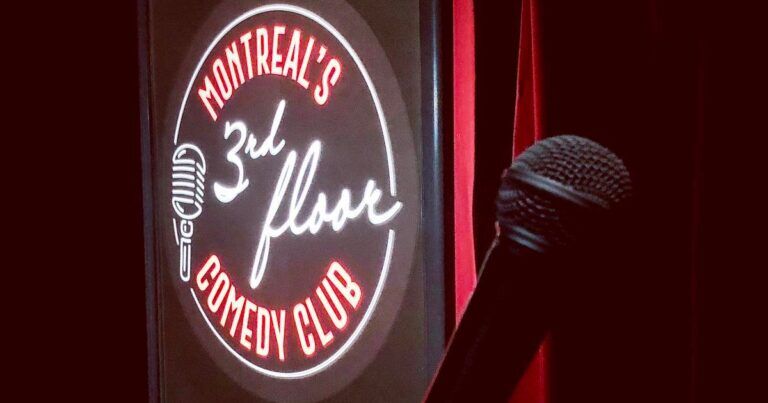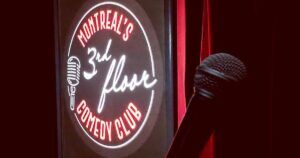 The 3rd Floor Comedy Club in Montreal offers a unique and intimate comedy experience, featuring professional comedians. Located at 2015 Crescent St, Montreal, Quebec, this club is known for its English-language stand-up comedy shows. The club hosts a variety of events, including free comedy shows on Tuesdays, regular Friday and Saturday shows, and a late Saturday show. Additionally, it offers a Sunday Open Mic, a platform for comedians to test new jokes and for audiences to witness the beginning of the comedic process. The club's setting, with a full bar but no food service, focuses on providing the best comedy experience. The 3rd Floor Comedy Club is a go-to destination for those looking to enjoy stand-up comedy in a cozy and engaging environment.
Montreal Comedy Club
The Montreal Comedy Club is a dynamic venue offering stand-up comedy shows across Montreal. Known for its English-language performances, the club hosts events at various locations, ensuring a fresh and exciting experience each time. The club's schedule is packed with a variety of shows, featuring both local talents and special events. The Montreal Comedy Club is not just about laughs; it also engages in fundraising and special events, contributing to the community. With its mission to bring the best of comedy to Montreal, the club offers a memorable experience for comedy enthusiasts, making it a go-to destination for those seeking a good laugh in the city.
Terminal Comédie Club
Le Terminal Comédie Club, situated in the heart of Plateau Mont-Royal, is a hub for comedy nights in Montreal. Born from the desire to create an ideal space for humor, the club offers comedians of all levels the opportunity to experiment and present their material under optimal conditions. The club's programming includes a variety of events, such as stand-up shows on weekdays and open-mic sessions on Sundays, featuring a mix of amateur and professional comedians. The club's vibrant calendar is filled with performances by notable comedians, providing a unique entertainment option for residents and visitors alike. Le Terminal Comédie Club is not just a comedy venue; it's a part of the neighborhood's cultural life, offering a distinctive spot for amusement and laughter.
In a city as diverse and dynamic as Montreal, comedy serves as a universal language, bridging gaps and bringing people together. Whether you're in the mood for a night of sophisticated humor, a raw and unfiltered comedy experience, or just a place to relax and enjoy a good laugh, Montreal's comedy clubs have something for everyone.
Montreal's comedy clubs are more than just part of the city's entertainment scene; they are a testament to the power of laughter and the enduring spirit of humor. In a world that often takes itself too seriously, these clubs remind us of the importance of taking a moment to laugh, to enjoy life, and to appreciate the diverse tapestry of stories and perspectives that comedy brings to our lives.