The Recording Academy recently announced the nominees for the 2024 Grammy Awards, highlighting outstanding achievements in music and audio entertainment. Among the various categories, the Best Comedy Album of the Year stands out, celebrating artistic excellence in comedy recordings.
This year's nominations feature a stellar lineup of comedy legends, including Chris Rock, Wanda Sykes, Trevor Noah, Dave Chappelle, and Sarah Silverman.
Chris Rock
Chris Rock is in the spotlight with his groundbreaking Netflix special, "Selective Outrage." This live-streamed event marked a first for Netflix and included nationwide watch parties. In "Selective Outrage," Rock tackles a range of topics with his signature wit, from non-racist yoga pants to his views on the Will Smith incident. Rock is no stranger to Grammy success, having previously won three times for his albums "Roll with the New," "Bigger & Blacker," and "Never Scared."
Wanda Sykes
Wanda Sykes earned her first Grammy nomination for her Netflix special "I'm An Entertainer." Sykes, a seasoned comedian and actress, began her career as a writer on "The Chris Rock Show" and has since released several acclaimed specials. Her latest work features her humorous takes on life with her French wife, the challenges of public restrooms, and her approach to societal issues.
Trevor Noah
Trevor Noah is known for his sharp and relatable humor, received his second Grammy nomination for "I Wish You Would." The former "Daily Show" host and successful podcaster brings his unique perspective to topics ranging from learning German to the absurdities of horror movie characters.
Related: Netflix's Verified Stand Up: Release Date, Performing Comedians, and Everything Else We Know
Sarah Silverman
Sarah Silverman returns with "Someone You Love," her first HBO special in a decade. Known for her fearless and bold comedy, Silverman's latest work showcases her unique style and wit. This nomination marks her third for the Best Comedy Album category, following "A Speck of Dust" and "We Are Miracles."
Dave Chappelle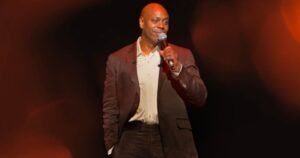 Dave Chappelle continues to redefine comedy with his latest special, "What's in a Name?" Known for his thought-provoking and often controversial material, Chappelle reflects on his journey in comedy and fame in this unique performance. He is a four-time Grammy winner, with previous wins for "The Closer," "Sticks & Stones," "Equanimity & The Bird Revelation," and "The Age of Spin & Deep in the Heart of Texas."
The 2024 Grammy Awards are set to take place on February 4th at the Crypto.com Arena in Los Angeles and will be broadcast on CBS and streamed on Paramount+.
The mission of the Recording Academy is to recognize excellence in the recording arts and sciences, cultivate the well-being of the music community, and ensure that music remains an indelible art of culture.