Daniel Tosh, widely recognized for his role as the host of Comedy Central's 'Tosh.0,' is venturing into the podcasting arena. He is set to launch 'Tosh Show' through iHeartPodcasts, marking a new chapter in his career three years after his long-running show was discontinued by the Paramount-owned cable network. This move came as part of the network's strategic shift away from live-action comedy.
In 'Tosh Show,' Tosh will engage in conversations with a diverse array of individuals, offering his unique take on current events and providing insights into his personal life. This podcast is set to break the mold of traditional celebrity and comedian interview formats. Tosh plans to feature an eclectic mix of guests, ranging from his plumber and stylist to his wife's gynecologist and his favorite drag queen. The discussions will cover various topics, including religion, travel, sports, and gambling, to name a few.
Listeners can preview the show through its trailer, with the official launch scheduled for November 14, 2023. Tosh humorously commenteed on his personal growth in an interview with Deadline, saying, "I've grown over the past three years. Literally. I thought I was 6'3", turns out I'm 6'4"… I think the listeners will appreciate my new perspective."
Will Pearson, President of iHeartPodcasts, expresses excitement about the podcast, anticipating that it will offer a "refreshing and fearless take on a wide range of topics from a beloved voice in comedy… We are excited to share this hilariously entertaining and thought-provoking podcast with listeners everywhere."
Daniel Tosh Launches Podcast Following Huge Success of 'Tosh.0'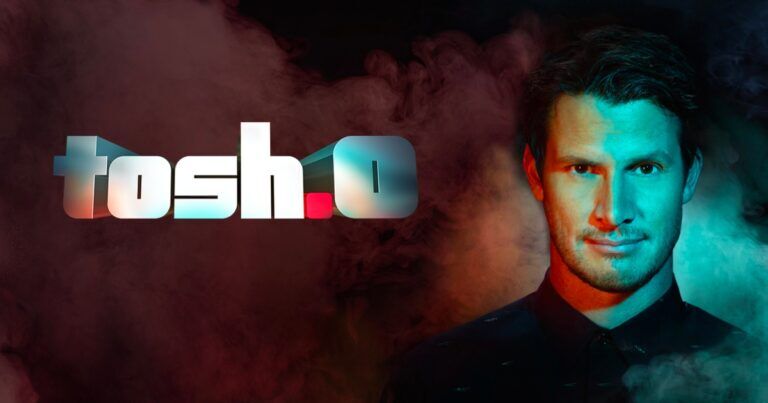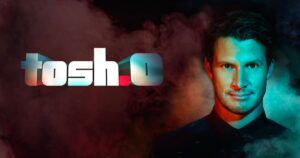 Premiering in 2009 on Comedy Central, 'Tosh.0' show enjoyed an impressive run of 12 seasons, concluding in 2020. This longevity is a testament to its enduring popularity and relevance, particularly among younger audiences.
Read More: Nimesh Patel Chats Upcoming Netflix Appearance, Nationwide 'Fast & Loose' Tour, Dave Chappelle Comparison, Plus More
The show's format, which revolved around Tosh providing humorous commentary on internet videos, pop culture, and social media trends, resonated strongly with viewers, especially in an era increasingly dominated by digital content. It not only garnered high viewership ratings but also significantly influenced the style and tone of comedic television during its run. Its blend of satire, internet culture, and stand-up comedy elements created a unique niche that appealed to a broad audience. The show's success also contributed to Tosh's rise as a prominent figure in comedy, further cementing his status in the entertainment industry.
For Tosh fans who want a preview of the podcast, they can check it out now at iHeart in anticipation of its launch.